Wave Foundation Job Circular 2022 Online Apply Link
Wave Foundation Job Circular 2022, The WAVE Foundation has a two-tier administration system in accordance with its organizational principles. The policy formulated with the participation and approval of a general body consisting of an eighteen-member and seven-member governing body. The steering committee retains the highest authority in setting and approving policies in accordance with organizational policy. The members of the steering committee elected for two years.
Steering Committee meetings held at least six times a year. The executive director entrusted with the responsibility of proper management and execution of the organization's policies and plans. He served as the chief executive of the organization and as the general secretary of the steering committee. Keep an eye out for more such job news en.bdjobsedu.com See more information of Foundation Recruitment Notification 2022 below.
Wave Foundation Job Circular 2022
Qualification: See circular
Experience: See circular
Vacancy: 70
Deadline: 15 October 2022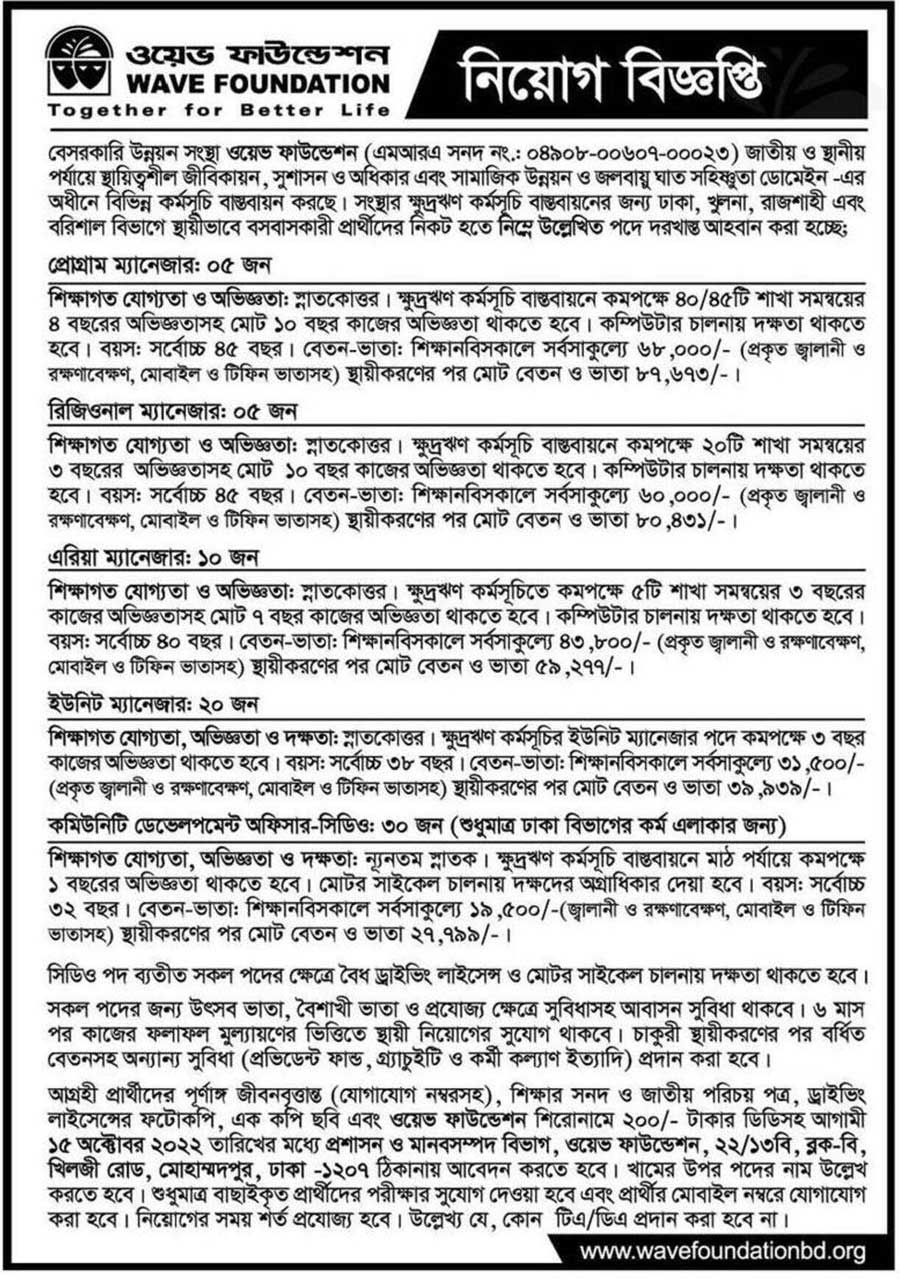 ওয়েভ ফাউন্ডেশন জব সার্কুলার ২০২২
Vacancy: See circular
Deadline: 18 October 2022
New Job Circular
The most significant aspect of poverty alleviation is ensuring employment for all deserving men and women. Yet, employment in both the traditional (public, private, private, etc.) and informal sectors not generated accordingly. Although the country's sector plays a key role in the country's economic growth, so far the sector considered as an informal sector, as it does not have permanent employment opportunities throughout the year. In this context, self-employment generated in various informal sectors, including agriculture, small business and enterprise, and local transport, becomes a major aid, where capital first required. See more job news here chakrir kbr.
In the informal sector in Bangladesh, there is very little capital or supply provided by public-private banks and financial institutions. Against this backdrop, a global milestone program created by a non-bailable microfinance, Bangladeshi NGO contributes to economic development through self-employment. Wave implements poverty and hunger eradication programs to ensure self-employment through socio-economic development of poor and lower-middle class people in both rural and urban areas. Under this program, 4 major products and various by-products play an important role in the development of agriculture, cattle including black Bengal goats.
Job related
"Wave Foundation Job Circular 2022, Square Company limited Job Circular 2022, new Wave Foundation Job Circular 2022, Bangladesh Chemical Industries Corporation Job Circular 2022, latest Wave Foundation Job Circular 2022, recent ngo Foundation Job Circular 2022, Bangladesh Tourism Board Job Circular 2022 BTB, all ngo job circular 2022, job career 2022, job newspaper 2022, all company job circular 2022, new job circular 2022, today job newspaper 2022,"wave foundation job circular"