Dockyard and Engineering Works Limited Job Circular 2022
Dockyard and Engineering Works Limited Job Circular 2022. Dockyard and Engineering Works Limited (DEW) was established by the British government in 1922 on the banks of the Shitalakshya in Narayanganj. At that time, this country was ruled by the British government. After their departure in 1947, the fate of Bangladesh merged with that of Pakistan. The dockyard then transferred from ownership of Royal Indian Marine Services (RIMS) to Pakistan Industrial Development Corporation (PIDC). Later in 1958, the name of the yard changed from 'Dockyard Limited' to 'Dockyard and Engineering Works Limited'.
After the Great War of Liberation in 1971, the ownership of the yard was transferred to Bangladesh Steel and Engineering Corporation (BSEC). ) However, due to many inconveniences the yard was announced to be cut in 2002. To revitalize the yard, the Bangladesh government handed over this remarkable dockyard to the Bangladesh Navy on December 7, 2006. Since then, the company has moved forward quite significantly. . Currently DEW LTD carries an indomitable impression which means strong building, longevity, quality and efficiency. Thus, this institution has become a trusted body of the government for nation building work. en.bdjobsedu.com.
Dockyard and Engineering Works Limited Job Circular 2022
Qualification: See circular
Salary: See circular
Vacancy: 15
Deadline: Given below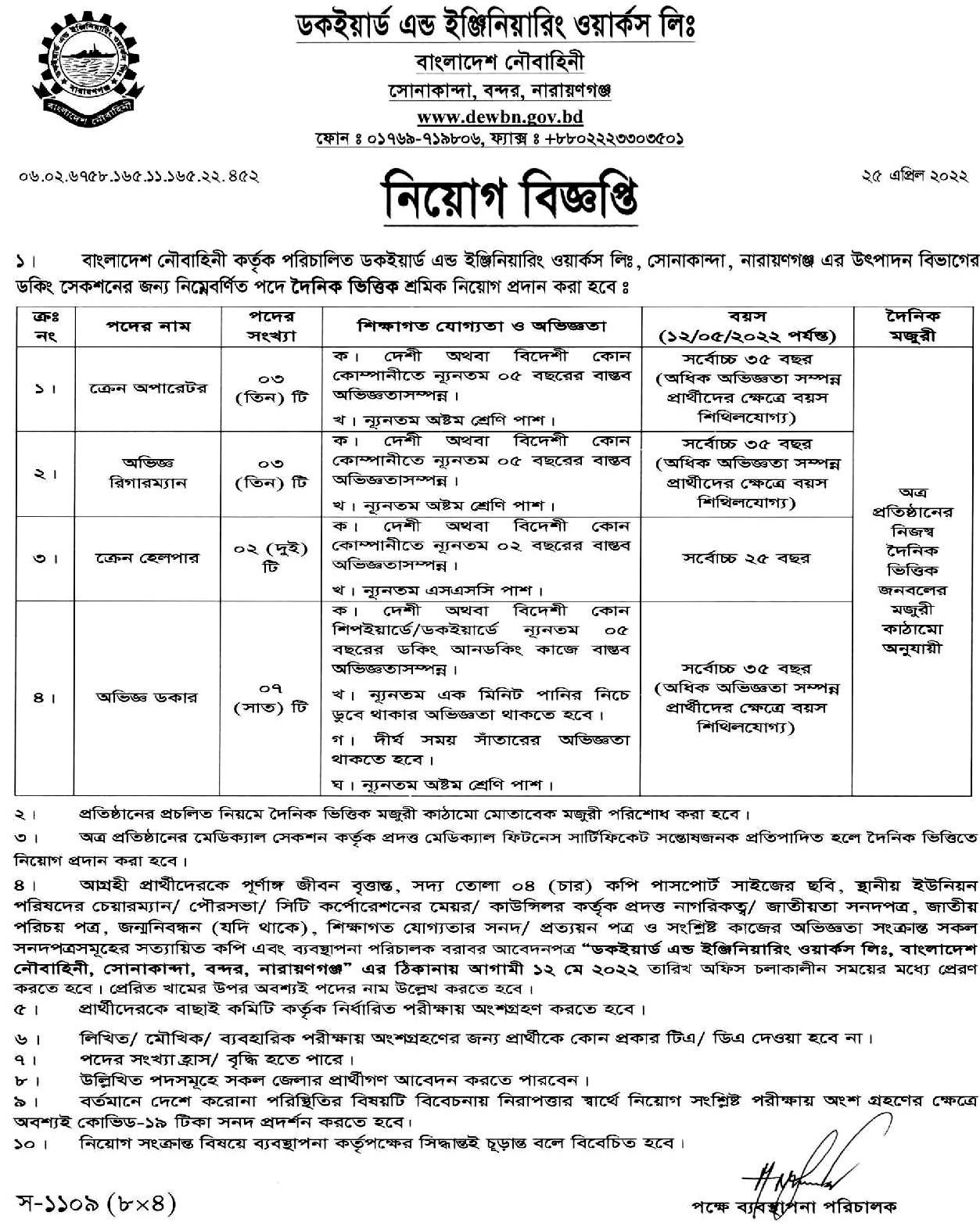 Closing Date: 12 May 2022
Latest jobs circular
New DEW Recruitment 2022
Agreement signed between Coast Guard and Narayanganj Dockyard and Engineering Works Ltd. to buy two harbor patrol boats. Done. The agreement signed at the Coast Guard headquarters in the capital's Agargaon on Sunday morning. Director General of Bangladesh Coast Guard Rear Admiral M Ashraful Haque was present as the chief guest at the signing ceremony. Commodore SM Moniruzzaman, Managing Director, Dockyard & Engineering Works Ltd. was present as the special guest. Also present on the occasion were the Director of Coast Guard Headquarters and other representatives of Dockyard and Engineering Works Limited. Coast Guard Media Officer Lt.
Commander Amirul Haque said that on August 1, 2017, two insured patrol vessels (IPVs) built under the supervision of Dockyard and Engineering Works Limited handed over to BCGS Sabuj Bangla and two fast patrol boats (FSBs). In addition, 2 more Insor Patrol Vessels (IPVs) BCGS Joy Bangla and BCGS Apurba Bangla and 6 big high speed boats are under construction. He added that with the dedicated support of Dockyard and Engineering Works, the capacity and scope of work of the Coast Guard further enhanced and activities between the two organizations expected to further strengthened. chakrir kbr.
Job related
"Dockyard and Engineering Works Limited Job Circular 2022. Bangladesh Navy Job Circular. New Dockyard and Engineering Works Limited Job Circular 2022. Weekly Chakrir Dak Newspaper. Latest Dockyard and Engineering Limited Job Circular 2022. chakrir khobor 2022. ASA NGO Job Circular. new job circular today 2022. All company job circular 2022. All govt job circular 2022. Job newspaper 2022."