Bangladesh Land Ports Authority Job Circular 2022
Bangladesh Land Ports Authority Job Circular 2022. Bangladesh Land Port Authority (Actual) is an autonomous body under the control of the Ministry of Shipping. It established by Act No. 20 of 2001. It consists of bordering land ports of neighboring countries like India, Nepal, Bhutan, Myanmar and for the purpose of creating infrastructural facilities and port management for conducting bilateral / tripartite import-export trade of Bangladesh. Of the 161 customs stations located on the country's 4,448 km land and sea border (of which 94 per cent border with India and the remaining 6 per cent with Myanmar), 13 major stations have tasked with building and controlling land port infrastructure. The Benapole land port started in 2001 under the control and management of Basatvak. Visit en.bdjobsedu.com.
Work on the three land ports of Teknaf, Sonamasjid and Healy began in 2004, 2007 and 2008, respectively. Responsibility for the construction and management of the infrastructure of these three land ports has handed over to private companies which already invested heavily in the sector on a construction, operation and transfer (construction, operation and transfer) basis. Within six years of its establishment, it has collected about Tk 31 crore in revenue for the actual land port use and deposited it in the government treasury. Apart from this, employment opportunities have already created directly or indirectly for about ten thousand families. The remaining nine land ports are constructed and controlled in phases. Extensive port facilities.
Bangladesh Land Ports Authority Job Circular 2022
Salary: See circular
Vacancy: 38
Deadline: 06 August 2022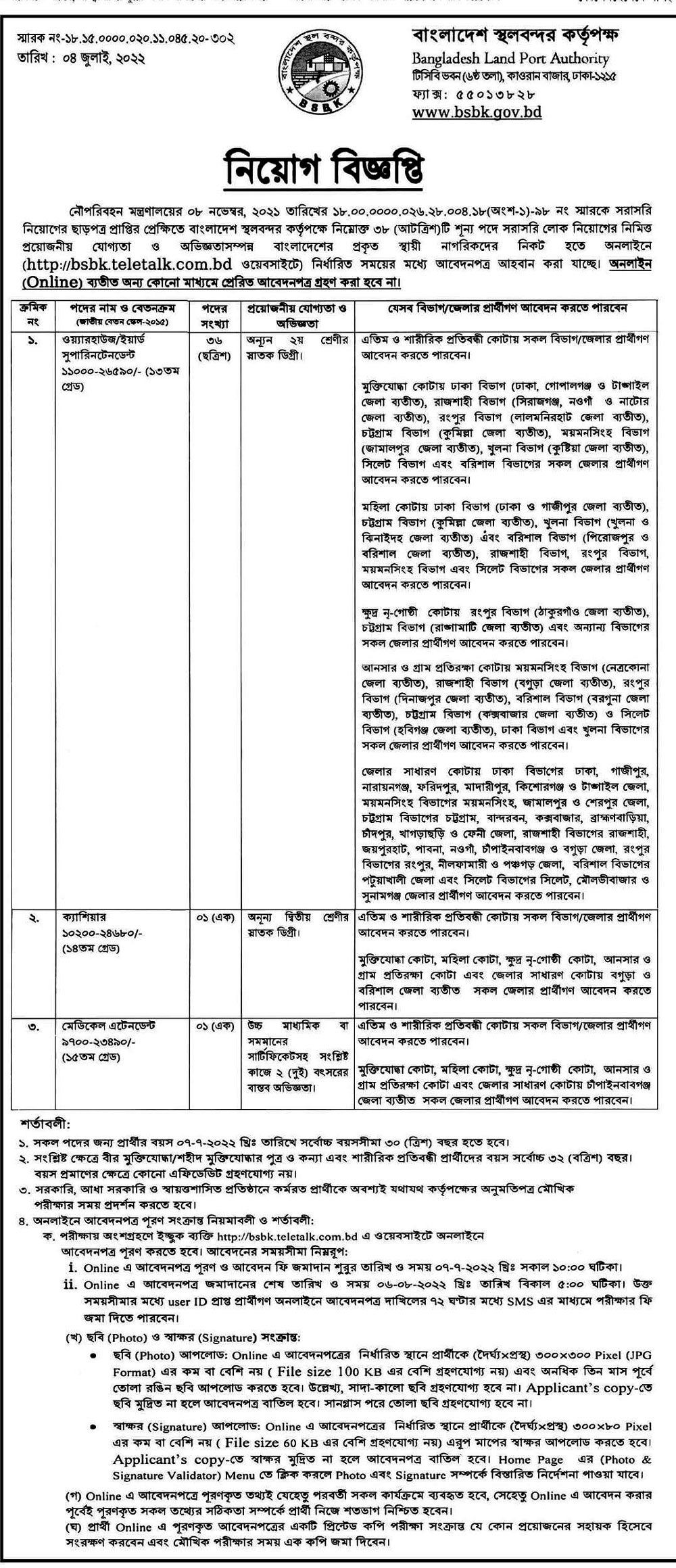 Latest jobs circular
BLPA Job Recruitment 2022
It expansion of communication systems are making a significant contribution to the growth of trade with neighboring countries. While Bangladesh's trade balance with India, a large neighboring economy, still has a huge gap, creating a conducive environment for bilateral trade between the two countries through land ports will reduce smuggling and improve the trade balance. The Real Public-Private Partnership (PPP) system is also encouraging the development of land port infrastructure and has already taken steps to build several land ports in that manner. This will expand economic activities and create employment opportunities in remote areas of the country. Visit for more jobs in job paper bd.
He is hopeful that he will be able to make a significant contribution to the economic development of the country by alleviating real poverty. The main activities of real estate include development of port infrastructure, management, taking further development measures on the basis of production and formulation of port management policies and strategies; Arrangements for receipt, storage and security of imported and exported goods at the land port and unloading, rate or quantity from the port users, collection of tolls, trucks and duties subject to prior approval of the government and taking steps for land. Port development and objectives with government approval. Execute any agreement.
Job related
"Bangladesh Land Ports Authority Job Circular 2022. BSRM Job Circular. New Bangladesh Land Ports Authority Job Circular 2022. Bashundhara Group Job Circular. Latest Bangladesh Land Ports Authority Job Circular 2022. Land Ports Authority Job Circular 2022. All govt job circular 2022. Job career 2022. chakrir khobor potrika 2022."